Cody Jackson
Codyjackson300
Porter Ranch, United States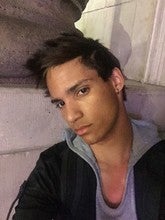 Konto Statistik
Hochgeladene Dateien:

0

Gesamtumsatz:

0

Portfolio Präsentation:

0%

Datenbank Präsentation:

0%

Foren:

11

Monatliche Uploads:

0.00 Durchschnitt
BIO
I never knew how easy it was being a kid. Now I'm in the big world and I've come to realize that life...is pretty hard. Just got out of high school and I need a good start. Photography is something I've always wanted to do. If I could get my business (ACody) to kick off then that would be a great start in starting the rest of my life. I'm always down for action and freelance photography is my thing .Little secret...it's very hard for me to turn down a job that ... mehr
I never knew how easy it was being a kid. Now I'm in the big world and I've come to realize that life...is pretty hard. Just got out of high school and I need a good start. Photography is something I've always wanted to do. If I could get my business (ACody) to kick off then that would be a great start in starting the rest of my life. I'm always down for action and freelance photography is my thing .Little secret...it's very hard for me to turn down a job that that has me hop on my motorcycle and ride down to a certain area to collect certain pictures/footage.
verstecken
angemeldet seit:
July 13, 2017
Ausrüstung:
I have a Sony CX900 and Sony Alpha 6000. I'm a very young rider. Got my Class M1 licence when I was 18. So I'm very mobile wherever I need work. From time to time I like to use glide cams, and other stabilizers, when working for clients. I like to see how I can manipulate a camera to capture as much detail on a job site with equipment rather than software. It allows the complete footage to look more natural. I edit all data with Adobe desktop apps such as Photoshop, Premiere Pro, After Effects, and such. But overall I'm friendly and always looking for more work.
Favorisierte Themen:
I've always been athlete so anything with a wide playing field would work just fine fr me. I like to take simple things and kinda force my own impression on it. Messing around with editing software is a great way for me to do that, and it's kinda my stress reliever.