Gregg Stewart
Gstewart1975
Oceanside, United States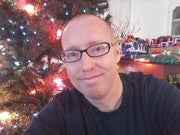 Konto Statistik
Hochgeladene Dateien:

11

Gesamtumsatz:

5

Portfolio Präsentation:

0%

Datenbank Präsentation:

0%

Downloads pro Bild:

0.45

Foren:

1

Monatliche Uploads:

0.24 Durchschnitt
BIO
I have been an artistic portrait photographer for about twenty years and I am now starting to get into photographing things other than people!
Webseite:
http://www.SkaterBro.com
angemeldet seit:
March 29, 2014
Ausrüstung:
I use a variety of different cameras. It just depends on what I have with me when I see something I want to capture and share!
Favorisierte Themen:
Anything that I stop and stare or at least take a second look at.
Stock rank: