Susan Sheldon
Inyrdreams
Stevensville, United States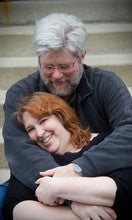 Konto Statistik
Hochgeladene Dateien:

3,591

Gesamtumsatz:

1,548

Portfolio Präsentation:

0.57%

Datenbank Präsentation:

0.06%

Downloads pro Bild:

0.43

Foren:

728

Monatliche Uploads:

46.64 Durchschnitt
BIO
Gary and I are a team that enjoys travel and fairs and beaches and any excuse to get out and play with our cameras. both of us are also artists, working in oils, acrylics, pastel, glass, and digital. life should be fun!
Folgen Sie mir:
angemeldet seit:
September 11, 2011
Ausrüstung:
Nikon D70 and nikon 5100
Favorisierte Themen:
people! children, families, groups, dynamics of the human race. I love how the eyes are the windows of the soul and always look at a person's eyes when I take thier photo. I had a working studio for almost 20 years.. biggest regret is not haivng copy rite releases for the hundreds of people i have photographed! best thing ever.. digital! i loved my pentax 645, but digital photography is the best invention ever!
Stock rank: