Safras Ahamed
Safras
Kochchikade, Sri Lanka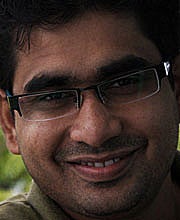 Konto Statistik
Hochgeladene Dateien:

15

Gesamtumsatz:

16

Portfolio Präsentation:

0%

Datenbank Präsentation:

0%

Downloads pro Bild:

1.07

Foren:

0

Monatliche Uploads:

0.11 Durchschnitt
BIO
Since childhood, I have been very much interested in Photography and Art. Finally my dreams came true. Now I am a photographer too. It is a great pleasure for me to share my photos with the world. I am more interested in MACRO photography and I am sure most of the my photos in this website will be MACRO photos.
Webseite:
http://www.photosaf.com
Folgen Sie mir:
angemeldet seit:
May 28, 2006
Ausrüstung:
It is a SONY Alpha 350 DSLR with 18mm to 70mm lens and 70mm to 300mm
Favorisierte Themen:
Nature, Specially Sky and See
Stock rank:
Ich bin ein Fotograf, der ausschliesslich mit Dreamstime.com arbeitet.