Mark Plumley
Markp
Garfield Heights, United States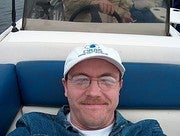 Konto Statistik
Hochgeladene Dateien:

101

Gesamtumsatz:

821

Portfolio Präsentation:

0.02%

Datenbank Präsentation:

0%

Downloads pro Bild:

8.13

Foren:

36

Monatliche Uploads:

0.74 Durchschnitt
BIO
Love and Time: The only two things in all of life and all the world that cannot be bought, but spent.
Webseite:
http://www.opshots.net
Folgen Sie mir:
angemeldet seit:
January 7, 2006
Ausrüstung:
Canon Digital Rebel XT 350D, Canon 70-200mm L lens, Canon 75-300mm lens, Canon 50mm lens, Canon 18-55mm lens, Canon Battery grip. Light box with lights and filters. HP 850
Favorisierte Themen:
Landscapes, closeups. Flowers. Aviation related items.
Stock rank: