Patrick Ager
Patager
Rayleigh, United Kingdom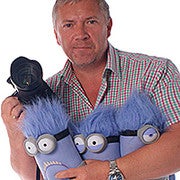 Konto Statistik
Hochgeladene Dateien:

186

Gesamtumsatz:

445

Portfolio Präsentation:

0.03%

Datenbank Präsentation:

0%

Downloads pro Bild:

2.39

Foren:

0

Monatliche Uploads:

1.86 Durchschnitt
BIO
Some of the best pictures are taken on the worst kit, some of the best kit (in the wrong hands) takes the worst photos. Stop buying kit and start taking pictures!!
Webseite:
http://www.patager.co.uk
Folgen Sie mir:
angemeldet seit:
August 20, 2009
Ausrüstung:
Camera Lens Studio Not important
Favorisierte Themen:
everything!
Stock rank: